Fashion Law Week 2013
Intelligent Design Runway Show
Friday, March 1, 2013, 8 p.m. to 9:30 p.m.,
Union Market, 1309 5th Street, NE, Washington D.C.
Hosted By Egomeli Hormeku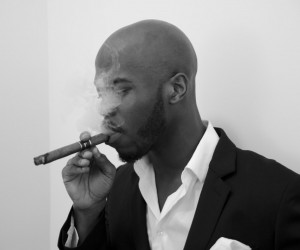 Egomeli K. Hormeku is the creator of The Hormeku Group Conglomerate, creator and owner of Nothing Nice New York menswear, Vida Chocolate luxury cigars, Steel Rosé, author of Hope This Helps 101, and creator of the new card game Late Night Great Night.  Born, raised, and residing in Brooklyn, the twenty six year old tastemaker's journey has brought him to the pages of fashion magazines, national news and Forbes Magazine,  as his cities newest and coolest entrepreneur.
Featured Designers
Serwah Asante. Serwah Asante is the Creative Director and Founder of Rue 114. After graduating from Dartmouth College with a BA in sociology, Serwah continued her studies at the Fashion Institute of Technology, NY.
In 2011, Serwah launched Rue 114as a platform upon which to celebrate beauty and style at all sizes. Inspiration for the Rue 114 brand is deeply informed by the designer's Ghanaian roots, New York City upbringing, and eternal love of travel.
Each collection is born of the global perspective and responds to the call of what today's woman – whether in Laos, Lagos, or Los Angeles, needs to be edgy, unique, powerful, and always feminine.
Gwen Beloti.  Feminine, chic, fun, cool… Gwen Beloti is best known for providing the eternally-evolving modern woman with a collection to complement her individual sense of style. Signatures of the designer, who launched in 2008, include unconventional color combinations, flattering silhouettes, and a timeless sophistication that easily translates from day to night.
Gwen Beloti, who holds a Master's Degree in Psychology, proudly hails from Brooklyn. An early childhood interest in sewing and design sparked a fascination with the fashion industry that led her to the Fashion Design Training Studio and the New York School of Design under the tutelage of FIT professors. These outlets further developed her raw talent and provided her with the technical skills needed to create her collection. Her creativity and energy is poured into every piece which is inspired by her view of today's contemporary woman, and her passion and drive toward success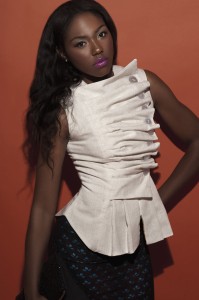 Today Gwen Beloti is on its way to becoming a global lifestyle brand that will expand its offering from apparel to include handbags and accessories. The brand has a loyal customer base and has been featured in numerous blogs and publications. Gwen Beloti has also been recognized for her philanthropic efforts which include Fashionably Smart, Literally, Prom Dress to Impress, and Little Dresses for Africa. All which support her brands mission in supporting the growth and empowerment of young women across the world.
SELLY Raby Kane.  In a country where art has become the best way of contesting injustice, street art has become the voice of the people.  With a head filled with cartoons, horror and fantasy movies, and an unlimited supply of ambition,  Selly Raby Kane has created a unique fashion universe.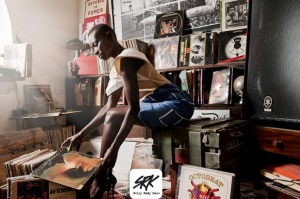 Quickly noticed by big names within the Senegalese fashion industry, in 2009 Selly Raby became the subject of a report on young designers by  ARTE that lead her to represent Senegal at the opening ceremony of the Pan-African Festival in Algiers, directed by Kamel Ouali.   Gaining strength  from this experience, she decided to attend MOD'SPE in Paris.  This change of direction gave birth to renewed creativity, ambition and especially knowledge of her creative identity.
The brand now participates in the annual SERAKA Fashion show, a presnetation of collections by different African deisgners.  The last  SERAKA Fashion Show – "BeStreet" – held on April 28, 2012, was attended by  1200 young creatives and took place in an automobile garage.
Selly Raby Kane is urban, casual, rebellious, cool, fresh, fun and unseriously serious!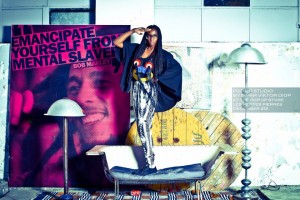 Eugenia Asante.  Eugenia Osei-Asante is a Ghanaian-born American designer and an entrepreneur. Asante is the designer of Bucolic (www.bucolicbombshells.com) and the director for marketing and public relations for The Bucolic Foundation (Sow a stitch, Save a child)  a Non- profit organization in Ghana that supports underprivileged children.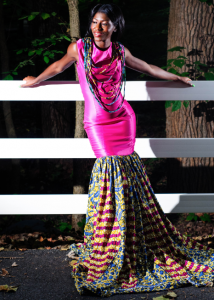 Asante was born in Ghana and moved to the United States when she was 10 years old. She graduated from the University of Maryland in 2011.  Asante discovered her passion for designing very early when she was only four years old.  Her mother had bought her a small sewing machine and Asante was hooked. Instead of playing with the other children or even with dolls, Asante would usually be home playing with her mini sewing machine.
In 2010, Asante won the 1st-Runner up award for Miss Ghana USA.  In 2011, after years of aspiring to incorporate her African heritage into contemporary line, she started Bucolic.  In 2012, Bucolic won 1st Runner Up in a fashion show hosted by Trendy Culture in Abuja, Nigeria.
Deborah Mdurvwa.  Stilettos, clutch, and your Mdurvwa piece – now you are ready to take on the town. The big city of daydreams and bright lights surely has a way of inspiring you.  New York City- where dreams are often created and chased. This is the city where one faithful shopping trip changed celebrity accessory designer Deborah Mdurvwa's destiny.
Are you daring? Are you contemporary? Are you inspired? If you said yes, you are ready for the modern age of Mdurvwa. This collection is not for the shy individual, but someone who wants to make a statement. With chain metal, leather and unexpected color,  this accessory line is what you are missing from your jewelry box.

Using her fashion background for working under designers such as Rachel Roy, Rosa Cha and Estaban Cortazar, Deborah is finally ready to step from behind the shadows and into the spot light.  Originally inspired from Deborah's Nigerian background, Deborah fuses her contemporary sensibilities with her African heritage.  Afro centeric prints permeate throughout her collection in subtle ways. With her finger on the fashion pulse, Mdurvwa is the collection of the future.

Jennifer Elizabeth Miller designer of the JEM Collection, has had a major impact on the Washington, DC fashion scene.  She started her line of casually chic infinity scarves in January 2011.  She has been featured at the The Market NYC, Carbon Boutique, Nana Boutique, and TROHV.  She has done shows with Ready.Set.DC, Know Fashion DC, Crystal Couture, Fashion Law Week , International Visions Gallery, RAW Natural Born Artists, Charleston Fashion Week 2012 and 2013 and many others.  JEM collaborated with artist Melissa Lew on jem.lew:the love project, a line of charitable jewelry, that was launched at the Secret Room MTV Movie Award's Gifting Suite in Los Angeles.  JEM scarves have been featured in many blogs including – Refinery29, FamousDC.com, The Pink Line Project, Urban Daddy, Glamourina.com, East Coast Chic, and Emily Kate Hargrove Capital Style.
Jennifer wants her scarves to make you feel happy, confident, and gorgeous.  When you walk in a room wearing Jem Collection, people won't be able to  take their eyes off of you.
Fashion Law Week 2012
Intelligent Design Runway Show
Friday, March 2, 2012, 7 p.m. to 9:30 p.m.,
Mansion on O Street, 2020 O Street, NW, Washington D.C.
Hosted by Awurama Simpson, Miss Universe Ghana 2010

Featured Designers
  Korto Momolu of Project Runway presents Sankofa
Sankofa Line by Korto Momolu, Photo Credit: Stephanie Matthews
Korto Momolu & the Sankofa Line:
One of Korto's proudest moments occurred in May 2011.  She was finally able to return to her homeland after 23 years to help launch Amani Liberia, a non-profit organization that teaches Liberian women how to create, market and manage businesses through textiles and sewing.   Korto designed and donated a masterful 27-piece collection,  entitled "Sankofa", which told the story of Separation, Transformation and Celebration of the women of Liberia.  Highlighted as the "fashion designer to watch" by the New York magazine, Korto has been featured by major international and national media outlets, including CNN International, The Discovery Channel, Tom Joyner Morning Show, People Magazine, Liberia Travel and Life Magazine, Soap Opera Digest, Women's Wear Daily, Spirit magazine, The Mo'Nique Show,  The Wendy Williams Show, Essence, and many more.
Korto Mormolu, a native of Liberia, West Africa, came in second place on Project  Runway and is on her way to becoming one of fashion's hottest new designers. The Arkansas resident debuted the Korto Momolu Collection, a contemporary female apparel and accessories line, during New York City Fashion Week in 2010.  Korto Mormolu designs  for everyday women of all shapes and sizes, not just for thin fashion models. She boasts  "my clothes are for real women, curvy women who want great pieces they can't always find. They can wear them and excel in them."
The Sankofa Collection:
Sankofa "looking back, but moving forward"  is s collection originally  hand designed by Korto Momolu, upon commission from Amani Liberia Foundation for its debut in Liberia May 2011. Amani has designed a program to teach marginalized women in Liberia skills to help them overcome their current financial situations. The collection was done in 3 parts to tell the story of the Liberian Women who will benefit from Amani's program…separation, transformation and celebration. The total number of pieces (27) represented the amount of years the country has been in turmoil.  Korto Momolu, Featured Designer (Installation/ Pre- show)
Studio d'Maxsi
STUDIO D'MAXSI is a design house owned by Afua Sam. Celebrated as an innovative, sophisticated and edgy women's wear line for the modern woman, STUDIO D'MAXSI's unique  designs  are for the sexy, classy, funky, chic and confident woman. STUDIO D'MAXSI specializes in: Red carpet looks, party dresses,  casual chic (men & women), wedding  dresses, prom dresses,  suits (men & women) and accessories-for all events. STUDIO D'MAXSI has been featured in various fashion shows including: Maryland Fashion Week, DC Fashion Week and Crystal Couture; charitable fashion events like Steps  to the Cure,  Fashion Fusion,  Fashion  for World  Peace, Pink  Jams, etc.
Elizabeth St. John Collection
Like many designers, Elizabeth began designing as a child.  The daughter of a master tailor, and fourth generation designer, for as long as she can remember, she spent countless hours in her family's workshop; growing up observing samples, studying gowns & learning techniques.
Elizabeth decided to pursue her other passions, science and nature, in college.  She graduated from the University of Maryland with a degree in Environmental Studies and Cultural Anthropology.  After graduation she began a decade of working for eco-focused and conservation projects that allowed her to visit some of the most remote places on Earth.
In February 2010, Elizabeth  launched the Elizabeth St John label with her first bridal collection at the French Embassy Couture show for DC Fashion week.  She has subsequently added destination bridal, cocktail, and most recently, children's wear to the collection.  She will introduce her new evening wear collection  for Spring 2012.
Elizabeth is also very active with social and conservation charities and serves as the President for the Universal Strategic Services Foundation in Washington, DC.   In the Spring of 2011 she introduced the ElementBags.com collection to help support her many charitable interests.  The collection includes specialty bags that provide direct funding to select charities with proceeds from the sales of every bag.–
Gwen Beloti Collection
The Gwen Beloti Collection is built on the theory  that  today's woman aspires  to be classic but trendy,  edgy yet tasteful, and distinctive while still collective. Gwen, an emerging women's wear fashion designer born, raised and based in NY, has produced a line that features a selection  of boldly, subtle,  innovative statements for its consumers and the fashionable elite. This line dresses women for an array of occasions and events. It is for the woman looking for wearable novelty in her wardrobe, daywear or red carpet attire. The Gwen Beloti Collection is dedicated to designing timeless garments for the fashionista who appreciates quality  and style. Every item is designed with these attributes in mind. One of Gwen's favorite quotes is, "Fashion many times is misunderstood, but quality  is always appreciated."
StellaBonds
StellaBonds skillfully unifies old world craftsmanship and elegance with new world style and sensibilities. Inspired by the styles of her hometown  in Bogota, Columbia, the country of Spain  and the lines and curves of the body, this line offers simple but well-sewn  pieces with details  that  make the wearer look casual and sexy but not tacky.
DIVA DELICIOUS
Diva Delicious is a fashion brand that currently creates accessories with raw materials made in Ghana and a touch of glam. "Diva" because everything in the accessories line is top quality and loud (in a good way) and "Delicious" because it's colorful and artistic. The purses in the Diva Delicious collection  reflect a great combination of design,  dimension and color along with "street-smart" trendiness. These versatile  clutches are featured in richly dyed straw, raffia, bamboo or African  fabric and gets added dimension from intricate cross pattern detailing. These delightfully woven purses  add sophistication with a hint  of flash to any outfit.
Diamantina
Diamantina, is a Washington, DC- based leather handbag company devoted to sustainability.  Diamantina was created from the partner- ship of two good friends, Luciana Gagliardi and Claudia Diamante, who share a passion for fashion and wanted to provide job opportunities to skilled men and women from their  home country,  Argentina.
The Diamantina products use the finest Argentine leather including full grain leather, embossed leather, patent leather, engraved leather and suede, to evoke luxury akin to the earth's elements. The leather is then complemented with detailed silver hardware, all hand-crafted by Argentinean artisans. The collection includes oversized handbags, hobos, and day and evening clutches. Diamantina delivers high quality leather handbags and accessories, which appeal to modern, stylish women.
Tashia Senn
Following her graduation from FIT, Tashia was eager to return home to DC and in October 2009, she launched her first collection  of high end women's evening wear, TASHIA SENN COLLECTIONS. The affection Tashia has for fashion as a young girl is reflected  in the timeless  pieces she creates that present each woman as beautiful and ageless. Her pieces exude romance, charm and creativity and have attracted the attention of fashion industry advocates,  bloggers and retailers. TASHIA SENN is a ready-to-wear collection but maintains a custom clothing feel. Tashia's most poignant inspiration comes from her world travels, the influence of natural elements and the diversity of cultures and customs  that  are expressed in her collections.
Simply L3ve
Simply L3ve is a women's clothing brand dedicated to providing the perfect mixture of fashion and affordability for the eco-conscious shopper.  Developed by Howard University Alum, Michelle Gibson, Simply L3ve is based on sustain- able practices and the principle of "cradle-to-cradle", which entails recycling manufactured products into new products rather than permanently disposing of them.  The collections created by Simply L3ve are inspired by the 50s, vintage with a feminine touch.
Kim Schalk
Kim Schalk is the creator of the whimsical line "God Help Miss Agnes." But she quietly retired her label after eight  years to launch
a new label simply called, Kim Schalk.  There is nothing simple about her new direction—edge is the new Kim Schalk.  Endearingly referenced as a "fierce designer" from the "fiercest" designer to grace Project  Runway, Schalk has channeled her title  into body-con silhouettes such as her signature wrap skirt  engineered for a universal fit.
Katherine Limon, Show Stylist
My Signature Look is the creation of Katherine Limon, a proudly self- proclaimed Fashionista. Katherine's love of fashion took root at a young age, where after  years of watching her sisters  model the latest  Jordache jeans or Izod polo shirts, she developed her own fashion dos and don'ts. Katherine's effortless ability to pull together a look, whether it be a classic ensemble or the latest fashion trend is a result of her attention to detail and cultivation of her own unique style. Katherine has found fashion consulting the perfect medium for channeling her creativity and helping others develop their signature look. In 2011, Katherine expanded her talents to include owner of CARBON, a sustainable chic eco-boutique in Washington, DC.
Fashion Law Week 2011
Nichole Alabi
Nichole Alabi is a graduate of Howard University with a B.A. in Journalism.  Currently she resides in Washington, D.C. where she attends the Howard University School of Law.  Since she was in kindergarten, she has dreamt of becoming a fashion designer.  She made her first article of clothing at 10 years old; soon she will be a full-time fashion designer.
Phillip Braham
ANTI: The Clothing Movement TM ("ANTI") is the expression of owner, Phillip Braham, who is a Los Angeles, CA native, and a third-year student at the Howard University School of law.  ANTI is a conscious street wear clothing brand.  According to Phillip, there are many street wear brands, but none like ANTI, because it is socio-political art projected onto cotton.  ANTI meshes geo-politics, hip-hop, punk rock, skate boarding and surf culture into one expression.
Elana Greenway
Elana Greenway became entrenched in the world of fashion after studying apparel design and construction at Florida State University.  Now, as a third-year student at the Howard University School of Law, she is excited to once again present her trend-savvy designs.  Her structured pieces exude contemporary glamour and are just right for the flirty, bold, and suave woman.
Jesse L. Smith
Utilizing creativity in conjunction with immeasurable clever designs of women's couture threads, JSNL [jen-yes] (pronounced genius) Scholars of No Limitations was originally conceived in 2004 by entrepreneur Jesse L. Smith.  JSNL's mission is to bring high quality fabrics and applications together to contribute intelligence, uniqueness, and desire back into the community.  Its concept is to express inspiration, thoughts, morals, and views for and on politically artistic apparel.