FASHION LAW WEEK 2013
INTELLIGENT DESIGN: PROTECTING THE LUXURY BRAND
Monday, February 25 – Friday, March 1 
The IP Panel

Monday, February 25, 2013, 6 p.m. to 8 p.m.
 Howard University School of Law,
2900 Van Ness Street NW, Washington, DC. 
The IP panel will feature discussion with attorneys shaping the legal field of Fashion Law.  Topics will include:  (1) Copyright – The IDPA and beyond (Is this piece of legislation just aesthetically functional?); Aeropostale copyright infringement case (2) Design Patents – Lululemon v. Nike, the controversial yoga pant; and (3) Trademarks and beyond (are Trademarks still the best way to protect luxury fashion brands?); The Tory Burch/C. Wonder trademark battle.
Moderated by Professor Olivia Farrar, former copyright examiner at USPTO.
PANELISTS:
Luna Samman, Esq. – Arent Fox
Mark Donahey, Esq. – Erik M Pelton & Associates
Anna Dalla Val, Esq. – Senior Director of Intellectual Property & Enforcement at Ralph Lauren Corporation.
Lisa Norton, Esq. – DLA Piper
Beyond IP  Panel
Tuesday, February 26, 2013,  6 p.m. to 8 p.m.
Howard University School of Law,
2900 Van Ness Street NW, Washington, DC.  
This panel will allow participants to discuss legal issues within the fashion industry that extend beyond intellectual property protection.  These issues include employment rights for models and interns, labor rights for garment workers both domestic and abroad, and real estate issues pertaining to department stores.
Moderated by Hilary Jochmans, Esq.
PANELISTS:
Paula Barnes, Esq. – Macy's
Laura Lestrade, Esq. – Dorsey
Paula Viola, Esq. – Paul Weiss
Sara Ziff – Founder, Model Alliance
Keynote Address

Wednesday, February 27, 2013, 6 p.m. to 8 p.m.
Howard University School of Law,
2900 Van Ness Street NW, Washington, DC. 
Featuring Mr. Harley Lewin, of McCarter & English, Appellate Attorney for Christian Louboutin's famous Red Sole case 
Fashion Law Week 2013 Media Mixer
Wednesday, October 17, 2012
7:00 p.m. – 9:00 p.m.
Alton Lane | Dupont Circle Showroom
1506 19th Street NW, Washington, DC 20036
As a precursor to FLW 2013, the Fashion Media Mixer will feature a brief presentation about Fashion Law. by a local practioner who is shaping the field.  The audience will be comprised of fashion bloggers and other media outlets.  The event will also honor a Fashion Law pioneer Darrell G. Motley, Esq – Arent Fox.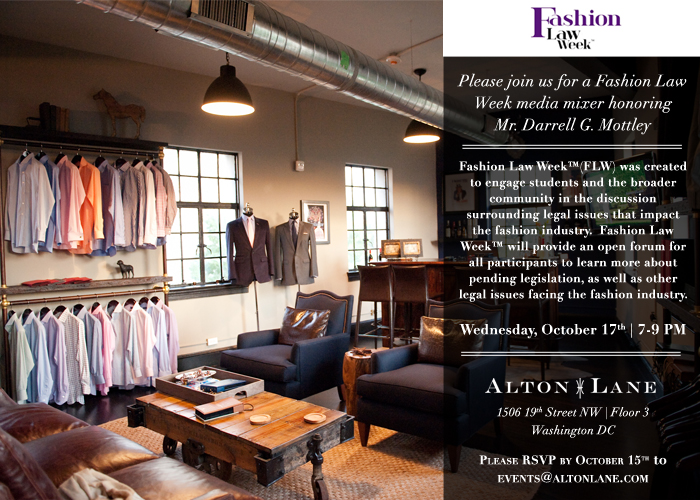 Intellectual Property for Fashionistas and Designers!
FASHION MIXER
Date: October 27th    Time : 6:00 to 8:30
Location: DC Carbon Your Neighborhood Sustainable Chic Clothing and Shoe Store
                        2643 Connecticut Ave., NW, Washington DC 20008
Featuring a brief presentation on intellectual property basics for fashionistas and designers by Mariessa Terrell, Esq. of SBC IP Law Group. The event will feature an awards ceremony honoring several local esteemed fashion aficionados.
Meet our special honoree of the night, Lawyer and Fashion Law Blogger of Fashion Cloture, Kenya Wiley, Esq. :

We will also honor Howard University Alumn and ANTM finalist Bianca Chardei:
Photo via blackstreetonline.com
Learn the basics when it comes to trademarks and intellectual property!
Celebrity  Minx nail manicurist, Natasha Ray, will be on hand to provide free services to a few lucky attendees! A certificate for hair services at Salon Essence will also be given away!!!
Fashion For A Cause 
Please participate in our bid to help non-profit "My Girlfriend's House"  by bringing a used handbag to the event. Details are provided below:
"My Girlfriend's House" is a Maryland-based 501(c)(3) nonprofit organization whose mission is to provide services to at-risk ladies in the DC, Maryland and Virginia Region that are in foster care, homeless shelters, halfway homes and domestic abuse homes.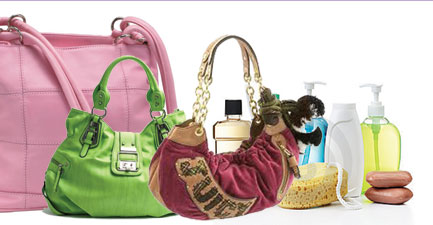 Their mission is to mentor as many young ladies as possible in order to help raise a stronger generation of women.
"My Girlfriend's House" handed out nearly 300 purses last year and has set a goal of 500 this year. So our goal is to collect unwanted slightly used purses for them to fill with personal hygiene items such as dental care, feminine care, nail care and hair care products –everything to make a women feel complete.
So let's help them accomplish this goal by donating your used purses to someone less fortunate who will make good use of it. If you wish to participate in this initiative, contact Didi Utuk at asaridd@gmail.com  or Telena Cassell  at tjcassell@me.com. Handbags can also be left in a box in front of the IPSA office in Notre Dame Hall at the Howard University School of Law (2900 Van Ness Street, N.W.)  from October 27th to October 30th.

FLWDC Keynote Address & Post Event Banquet
The keynote address was held on Wednesday, February 29, 2011, at the Howard University School of Law from 6:30 p.m. to 7:30 p.m.. It provided students  and the local community the opportunity to hear from someone who is shaping fashion IP law in a significant way.  Last year, FLW was fortunate to have Professor Guillermo Jimenez give the keynote address at  Fashion Law Week DC. Jimenez is professor of International Trade and Marketing at NY Fashion Institute of Technology, an author, and an attorney. Professor Jimenez coauthored "Fashion Law: A Guide for Designers, Fashion Executives, and Attorneys" (Fairchild 2010), with Barbara Kolsun, Executive Vice President and General Counsel for Stuart Weitzman.  Professor Jimenez is the managing editor of a companion blog to the textbook, "Fashion Law Center".
The event was followed by a Banquet in the Pauline Murray Conference Room.
Fashion Law Round Table

Moderated by Mariessa Terrell, Founding Owner of SBC IP Law Group, the Fashion Law Round Table was held on Tuesday, February 28, 2012, from 6:30 p.m. to 7:30 p.m. at  Howard University School of Law. The event provided students, designers, and community members with a rare opportunity to hear attorneys within the fashion industry speak about their career paths and the exciting work they do.
Panelists
Stephany Greene
Deemed Washington, DC's 'First Lady of Style', Stephany Greene, a graduate of Pratt University, is a sought after Style Expert, Fashion Designer, TV Producer and the visionary behind Stephany & Co. Considered a respected authority on the business and politics of fashion, Greene shares her more than 20 years of fashion industry expertise in her self-branded online column, The Politics of Style.  The column reaches over 91,000 readers a day and half a million readers each month through Essence MagazineOnline.  A visionary and progressive fashion professor at UDC, Greene has successfully launched 19 courses in the Fashion Merchandising Program and also produces and hosts the UDC based Fashionably DC TV show.
 Michelle Mitchell
Michelle Mitchell is a graduate of DePaul University College of Law and the Associate Director of the National Export Initiative in the International Trade Association.  Michelle works to further President Obama's economic agenda by supporting his initiative to double U.S. Exports throughout the next five years.  Previously, Michelle served as special assistant to the chief of staff for the U.S. Secretary of Commerce and she also led the Obama for America Campaign voter protection efforts in Ohio and Texas.
 Darrel Gilbert Mottley
Darrell Gilbert Mottley earned his law degree, with honors, from The George Washington University in 2000.  He is president-elect of the District of Columbia Bar for the 2010-2011 term.  He is an IP attorney focusing on patent and trademark cases, including opinions, licensing and litigation.  Additionally, Darrell specializes in design patents for the apparel industries.
 Mariessa Terrell
Mariessa Terrell is a graduate of the Howard University School of Law and the founder of SBC IP Law Group, a boutique brand-management and intellectual property law firm.  In 2004, Mariessa created Simone Butterfly as a division of SBC IP Law Group dedicated to protecting the IP rights of the fashion design community.  Prior to starting SBC IP Law Group in 2003, Mariessa served as a trademark attorney for the U.S. Patent and Trademark Office, where she prosecuted trademarks for leaders in the fashion industry.